"It's Thorough, Dries Quickly, and Stays Clean Longer – Or It's FREE!"
Hi! My name is Sean Ivry and I'm the owner of First Class Floor Cleaning and More by AllStates Services.  We can clean your Carpet, Upholstery, Tile & Grout, Hardwood Floor Cleaning, Blinds, Chandelier and Marble Floor Polishing.  Thank you for taking an interest in me and my company.
With First Class Service, we only use non-toxic, safe products to achieve the most thorough cleaning you've seen… or it's FREE!
That may sound like just another catchy guarantee but let me explain exactly what it means for you:
We will always take our time to make sure the work we perform for you is done right. We never rush a job. We highly value our clients and would love to have you as a "client for life".  If ever a client has any questions or concerns with any aspect of our work, we will take care of it immediately.
When all is said and done, if you are not absolutely thrilled with the experience…you don't pay a dime. No questions asked. No hard feelings. What could be more fair?
But, please, don't take my word for it.  Click HERE and see what people in the community have said about our company, AllStates Service is a First Class Floor Cleaning Service! 
We provide a service experience unlike any other you will have in our industry.
Client service and each client's 100 percent complete satisfaction is our top priorities. We've the experience and know-how to perform an exceptional cleaning job, in addition to we're committed to ethical business practices.
Customer Service is our Main priority
Everything we do is in regards to first-rate, excellence customer service. Client service is anything from the service you get on the phone to your follow up after cleaning, the information we provide on the care of your carpet, the spotter and the shoe covers we leave…it's all in place for your complete satisfaction.
 Our technician are sincere, clean-cut and pleasant.
 

We do everything we can to make your experience with us convenient and easier.

– Our goal is always to make having your rug and floors cleaned a stress-free experience. We will make every effort to make the process efficient and easily, so the your next visit you have us clean, you'll know you just have to make the call and everything is taken care of.
We're nice people.

– Our customers tell us many times, what sets us beyond the rest is we're nice folks to deal with. We're not rude on the telephone or in person. Every employee is a clean, friendly, polite, respectable, nice person…not someone attempting to hustle or take advantage of you.
We be respectful to your time. – We also don't want to be a burden to our clients. We arrive once we say we'll, or we call. We don't want you pacing and wondering where we are for 3 or 4 hours. If we're running late, we'll contact you! We'll inform you what's going on and when to anticipate us, alternatively you can just reschedule. When we running earlier, we'll also contact you. We don't want to surprise you when you're not ready for us.
We provide a 100% No-Risk Guarantee. – We want you to definitely be absolutely thrilled with every carpet cleaning, upholstery cleaning, tile and grout cleaning, area rug cleaning, blind cleaning chandelier cleaning, pet odor removal, hardwood Cleaning & Refinishing, floor or marble polishing job we do, therefore we give you an iron-clad, risk-free guarantee. If you aren't satisfied with our work, we'll re clean the area at no cost. And if you still aren't satisfied, you pay nothing. Not one cent. Many companies don't guarantee their work – however we feel nothing is more essential than your complete and total satisfaction.
What our clients say about us is way more powerful than anything we could say our self. You can read or view our clients' testimonials to get more information about the quality customer care we provide.
We'll take all the time essential to make sure you're pleased. Even if we have to reschedule the next job to accomplish it, we'll gladly do so. We won't be satisfied unless you let us know you're completely satisfied with the job we did.
We understand that we wouldn't have 100s of 'raving-fan' customers if we didn't make our clients happy.. That's why our #1 top priority is having a happy client by the end of the day.
Our Floor Cleaning Expertise and experience Matter
With expertise in floor cleaning is very important, and so is our experience in the industry.
There's a common misconception that having the most finest equipment is all a company needs to clean carpet and rug properly. This is just not true.
Many companies own hot-water cleaners, but very few teach their staff how to use them correctly. Because of this it's important that you choose your carpet cleaner carefully.
The best cleaning companies are those that have been certified by the Institute of Inspection, Cleaning and Restoration Certification (IICRC), known as the Clean Trust.
As certified cleaning company, we are qualified to do warranty work as well as maintain the warranty on carpets, including carpets manufacured by the world's largest carpet manufacturer, Shaw Industries.
We're certified to care for and can help maintain your warranty on Shaw Industry carpets. Not every cleaning company can do that. That they're not certified, they aren't authorized to do warranty work.
All carpet cleaners are not alike, and we have fixed many problems other carpet cleaners have caused. We have saved carpets that our clients thought were finished after the last carpet cleaner made them look worse rather than better.
 Ethical Business Practices
Our business practices are based on a simple philosophy: We perform what we say we're going to do, and there aren't any hidden charges.
We offer legitimate offers with real expiration dates, and we'd never consider "bait and switch" tactics. We are strongly against unethical practices and does not use them at all in our business.
In contrast with many other companies in our industry, we're about educating our clients on how they can avoid carpet cleaning rip-offs. We have a free "Consumer's Guide to Carpet Cleaning" we offer as an educational resource. Especially if you don't hire us, we can at least assist guide you in the right path so you don't pick the wrong cleaning company.
We take customer service seriously, and we're proud of our knowledge in addition to experience. The very last thing we would ever do is rip off or scam a client.
We offer a unique combination of experience, expertise and ethical business practices.
We've been cleaning carpets for a very long time. Ours is a family business, and cleaning floor (carpets, Upholstery, tile and grout, wood floor and marble) is what we do. It's our bread and butter, and our hearts are completely into what we're doing. That's why we're confident we provide the best possible carpet cleaning experience to every one of our clients.
New Jersey IICRC Certified Firm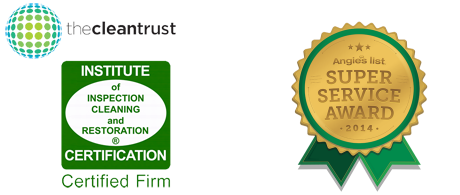 Angie's List Super Service Award
Be Aware of Scams
SCHEDULE APPOINTMENT
Our dispatch department is standing by, ready to schedule your appointment today! Our highly trained technicians are experienced cleaning all types of carpet, tile, and upholstery. You know you need it cleaned, and we want to clean it!